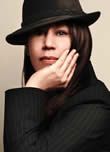 Bio
Rita di Ghent was born in Hamilton, Ontario. When she was a baby, her family moved to Chicago where some of her Mother's siblings had emigrated to. Rita's father drove for a living, becoming Louis Amstrong's chauffeur. He also chauffeured luminaries such as The Beatles, Bill Cosby, and Robert Culp.
Rita's training began at age three with ballet and tap dancing. Her first big stage show was at 8 years, tap dancing to the music of Ramsay Lewis. Her musical parents got her  a clarinet and private teacher around the same time. After years playing clarinet, Rita began playing violin. Through her father's musical influence, Rita  fell in love with and began singing  jazz in high school, drawing on childhood memories of  her Mother's ever-constant singing voice.
Rita has become a world-wide artist of note and the inventor of an original jazz genre that she calls Sprawl -- a combination of traditional jazz, contemporary urban music, and painterly stories. Her many accolades include a nomination for the Montreal Jazz Festival's Prix de Jazz for her acclaimed "The Birth of Sprawl". 
For booking information, please contact:
groovecanada@gmail.com
"di Ghent is a true original... absolutely captivating.  This vocalist is a coveted Canadian treasure." (The Jazz Review)
"Rita di Ghent is a hot vocalist in the grand tradition with a beautiful mezzo voice that really swings…there are so few singers capable of doing what she can accomplish."  (Jazz Hot Magazine, Paris)
 "The coolest jazz diva on the scene."  (Ottawa X-press)
 
"The girl is BRILLIANT!!! She's got a million dollars down her throat!  (Harold Ellison ("The Jazz Cafe" TripleU-FM Nowra, New South Wales, Australia)
"…to find an artist who can write and perform out of a traditional jazz setting, and yet do it in a way that appeals to a wide cross-section of musical tastes in no easy feat.  To find this quality in an artist who also maintains the highest standards of musical integrity is even more rare.  Rita is such an artist."  (The Medicine Hat News)
"Rita paints lyrical pictures with colour and detachment, pulling you in and leaving you wondering… Who knows?Maybe one day they'll make one of those Canadian Heritage commercials about the invention of Sprawl…" (Eye Magazine, Toronto)
"[keynote presenter] di Ghent uses her soulful voice and spoken-word infused original jazz tunes to inspire audiences to consider how others live their lives – the struggles they go through, the prejudices they face, and the challenges they strive to overcome. It is impossible to hear her perform and not come away inspired to listen better to people's stories, their pain, and their joys." (Joan Harrison, U of Ottawa Symposium Democratic Dialogue Via the Arts)
"The Standards Sessions, 2": 
"In putting together this second instalment of "The Standards Sessions", jazz vocalist and band leader Rita d Ghent has chosen to explore this classic ["Torch Album"] genre and, as a result, the songs she has selected here hit a more reflective note than on any of her previous efforts. Just listen to the palpable tension in evidence on the opening selection, "Good Morning Heartache", and the abject despair voiced in the dramatic "Ne Me Quitte Pas". I'm sure you'll agree that although this clearly is the darker side of love, Rita willingly goes there time and time again, and brings her amazing group of Toronto players along for the ride. 
While the program boldly visits some unexpectedly bright places along the way, as on "Nowhere" and Rita's self-composed novelty "Nicely Situated", the Torch theme remains constant. It becomes even clearer as the program unfolds that in the eyes and ears of our heroine, love is one hell of a roller coaster ride. And yet, to our great relief (and hers as well, I imagine) she seems ready to take it on again by the program's end, no matter the cost. But enough analysis, let the music speak for itself on this Torch Classic from a totally modern perspective, by one of our great Canadian vocal-adventurers, performed with passion, honesty, and depth." George Evans, Jazz Vocalist and Journalist, December 2003